ChineseMenu.com
SBS Database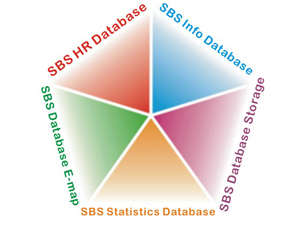 SBS database contains accurate, in-depth information on more than 14 million U.S. businesses. The database covers the entire manufacturing sector, including branch and headquarters locations.
Additionally, SBS data is in the process of compiling information on the services sector. For each location, we collect over 30 fields of need-to-know data elements, including contact information, multiple decision-makers, web addresses, and fax numbers, to name just a few.
Our obsession with accuracy
SBS data' in-house research department uses a proprietary compiling proc ess to ensure that the information meets the highest standards for quality. All data is first phone-verified, and then undergoes strict quality control checks before it is included in the database. To maintain this high level of accuracy, our research staff collects and verifies information on a constant basis, adhering to a state-by-state compiling schedule.
About SBS Database
The Finest Database of 14 Million U.S. Businesses
SBS, Inc. is committed to providing the world's best lists and sales leads. Every month approximately one million businesses change within our database. From one year to the next, 70% of the businesses within our database have a significant amount of change.

We gather data from multiple sources and telephone-verify the information so you get nothing but the best, most accurate information. We include nearly every single business, no matter how small, how large, or how newly established.
See how we compare against our competitors
Our Sources:
·5,200 Yellow Page and Business White Page Directories
·17 Million phone calls to verify information. Every business is called one to four times a year.
·County Courthouse and Secretary of State Data
·Leading business magazines and newspapers
·Annual Reports
·10Ks and other SEC filings
·New business registration and incorporations
·Postal service information including National Change of Address, ZIP+4 carrier route and Delivery Sequence Files
Select business prospects by:
·Location - ZIP Code, Neighborhood, City, Metro Area, County, Area Code, State.
·Type of Business - Yellow Page Heading, Major Industry Group, SIC Code or Professionals (doctors, dentists, etc.)
·Business Size - Number of Employees, Sales Volume
·Credit Rating
·Location Type - Corporate Headquarters, Headquarters of a Subsidiary, Branch.
·Phone and Fax Numbers
·Key Decision Makers/Executive Names
What can I expect from this business database?
SBS, Inc.'s information is continuously updated from new directories, and is also telephone-verified. It's the best business information available, but it is not perfect. You will still find a small percentage of errors and "out of business" names. It is not uncommon to have 5-10% undeliverable names, especially in industries with high levels of turnover.

Our commitment to quality and vision
SBS commitment to quality means that you receive the freshest, most relevant information to support your unique business decisions. Our vision is to help you find smarter, more efficient ways of addressing familiar business challenges by integrating information with analytics.